Our beginner's course will teach you the knowledge, skills, and attitude to properly and responsibly operate a handgun. We use multiple demonstration and hands-on techniques to show you step-by-step how to safely handle and accurately fire semi-automatic pistols. We take the time to assure you master each learning phase before moving on to the next lesson. And yes, questions are always welcome! After completing the class, you'll feel a sense of pride and confidence in what you have achieved. Take your targets home and show them off to your family and friends!
Want to learn to shoot in a safe, comfortable, and supportive

environment?
Are you unsure about guns but want to try it out to see what it's like?



Then this class is for you!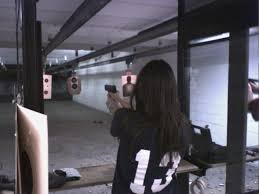 After you've completed the Beginner Pistol course, you're ready to move up to this next-level class. We'll further develop and build on the fundamentals you learned in the previous course. Conducted entirely on the shooting range, we start out slowly by refining your basic marksmanship skills with untimed slow fire exercises. Once you've mastered that, the fun really begins. We present new multi-part targets that you'll engage with graduated timed fire so you can practice your accuracy and speed at the same time. You'll be surprised at how you'll be able to shoot faster and better than you thought you could. When the class is finished, give yourself a high five for a job well done!
Want to shoot a lot more?

This is the class that does it

!