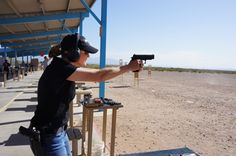 The Defensive Pistol II class (NRA Defensive Pistol Course format) focuses on the information and techniques needed to develop a defensive mindset. The goal of the course is to gain the knowledge, skills, and attitude necessary to carry and use a concealed pistol ethically, responsibly, and with confidence.
The class is designed as a logical follow-up to the NRA Basic Pistol course. It is also an excellent class to prepare the shooter for the NRA Basics of Personal Protection Outside The Home course. A sampling of subjects that will be discussed are: Developing the proper mindset when using a pistol for personal protection, mental awareness and confrontation avoidance, principles of cover and concealment, drawing and presenting a firearm from concealment, clearing common stoppages, range training, and more.
More people every day are realizing that they must learn to become their own first responder. Unfortunately, we can't count on law enforcement to save the day. After all, when seconds count, the police are minutes away. If you're ready to take your self protection into your own hands, this course will get you started in the right direction. Using multiple repetitions of focused exercises, we'll help you enhance your ability to react in defensive situations that might arise. You'll learn how to access, load, and fire your pistol quickly; the high ready position; the search and assess technique for additional threats; and shooting from cover positions. After completing the class, continued practice with your newly acquired skills will help you develop the confidence to take charge of your own self defense.
T

ake Charge of Your
OWN Self Defense