Meet Your Lead Instructor
Peggy Grangetto
Instructor Certifications:
National Rifle Association: Instructor certifications in Basic Pistol, Defensive Pistol, Pistol Marksmanship Simulator, Basic Rifle, Basic Shotgun, Home Firearm Safety, Personal Protection Inside and Outside the Home, Chief Range Safety Officer, Refuse To Be A Victim®.
United States Concealed Carry Association: Certified Firearms Instructor
CalGuns Shooting Sports Association: Women on Target Instructor
California Department of Justice: DOJ Certified Instructor
The Well Armed Woman®: Certified Instructor
ShootSafe Learning: Firearm Safety Instructor
Certified Instruction & Training: Firearms Instructor
Next Level Training: NRA Basic Pistol Affiliate Instructor
Law of Self Defense: Instructor Program Graduate
ALICE® Training Institute: Certified Instructor
TASER Self-Defense: TASER Civilian Training Instructor
SABRE®: Personal Safety Academy & OC (Pepper Spray) Instructor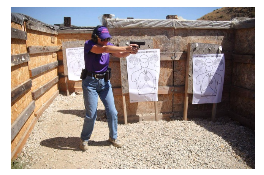 Peggy has always been interested in target shooting, ever since she found those oh-so-fun shooting games at the old-fashioned arcades of her childhood. As an adult, her interest in the shooting sports and self-defense solutions became a priority, and she decided she would like to learn and then pass on more formal education to others who were also searching for sport shooting and personal protection options.
Toward that end, Peggy has achieved an array of certifications in numerous forms of shooting and personal defense choices. In addition, her 20 years in law enforcement adds a unique perspective to her informational knowledge base. When you're ready to put our experience to work for you, contact us for a consultation to evaluate your specific recreational and/or personal protection needs!
Organizational Memberships:
National Rifle Association (Endowment Life Member), California Rifle and Pistol Association (Life Member), United States Concealed Carry Association, Armed Citizens Legal Defense Network, A Girl & Gun Women's Shooting League, The Well Armed Woman, California Gun Girls, Annie Oak-Tree Ladies Group, San Fernando Valley Shooters Club.